Shrove Tuesday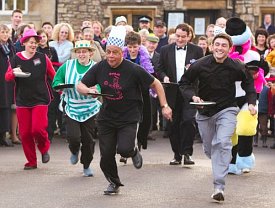 Meglio tarde che mai: vorrei ricordarvi che oggi (per chi festeggia il rito ambrosiano) è martedì grasso, ovvero
Shrove Tuesday
.
Essendo la Gran Bretagna un paese non più, da cinque secoli, un paese di maggioranza cattolica romana, si è, ahimé, perso col tempo il Carnevale, e l'unica cosa che oggi ci rimane sono i festeggiamenti per il martedì in cui ci si confessa i proprio peccati (
to shrive
, uso arcaico) e si mangia grasso - ormai ridotto alla consumazione massiccia di
pancakes
, cioè crèpes, cioè fritelle. Da cui il nome alternativo di "
Pancake Tuesday
".
Oltre a riempirsi la panza di fritelle, i britannici si divertono ad organizzare gare: è de rigeur buttare, cioè
toss
, per aria il pancake, e con sapiente scatto del polso farlo girare, cioè
flip
, a mezzo metro dalla padella, per poi ripescarlo con perfetto tempismo. Si organizzano quindi gare per il
flip
più alto, il maggiore numero di
flip
da un solo
toss
e la massima espressione di capacità flipesca, il 100 metro tossando di continuo il proprio pancake.
In case in tutta la Gran Bretagna si sta flippando proprio in questo momento...
Buon appetito!
******************************************************************************
Folks, do I need to remind you? It's Shrove Tuesday. Get tossing...!